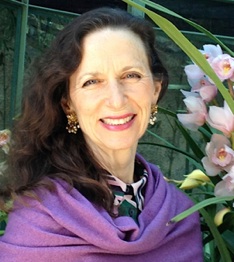 "Pearls of Hope" is a charitable work created by Laura Eastman Malcolm to train women in the art of beadwork embroidery. "Pearls of Hope" came into being as an outgrowth of Laura's beadwork accessory business, Laura Eastman Designs, based in New York City. Laura's fashion work has sold in many high fashion stores such as Bloomingdales, and she has been featured in magazines such as Vogue Magazine, and Women's Wear Daily. In 1989 New York's Bowery Mission, after 100 years of helping men with alcohol and drug dependencies, decided to open a mission for women, and they asked the New York community for help. Laura responded and began training needy women to do embroidery beadwork as a means for them to develop their own aesthetic creativity and also learn an income-producing occupation. At that point, "Pearls of Hope" came into being as a charitable work with the motto "Helping Women Live Better Lives".
Laura has also trained women to do beadwork embroidery in Afghanistan, collaborating with humanitarian organizations in Kabul and Mazar i' Sharif. In 2013 the cultural organization Pigna Mon Amour of San Remo, Italy, asked Laura to participate with them in an effort of integration with Arabic speaking women living in the historical quarter, La Pigna, of San Remo. This project was called "Perle di Speranza" (translated from "Pearls of Hope") or "Perline di Speranza", as the Italian word "perline" means "beads".
In 2017 Laura was invited to help women at "The Sangita Charitable Trust" in Chennai, India. In their Self Help Program, women at risk from poverty and abuse are taught to sew and cut fabric from saris that have been donated by Indian women in and across the globe as a means of helping these disadvantaged women. Laura has taught the women in the Self Help Program to add beaded fringes on to the scarves and shawls they make from the saris, and this collection is called "Heart to Heart".